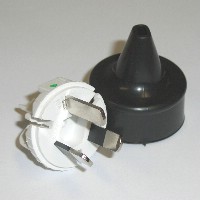 - Suitable for use with 3 core 1.0mm˛
ordinary duty flexible cord
- Insulated pins

Available in Black, Grey, White and Clear.

WIRING INSTRUCTIONS
1. Slide plastic cover onto cord.
2. Strip wire as shown in diagrams
3. Twist bare strands and insert into
screw terminals. Brown to Active (A)
Blue to Neutral (N) and 3 pin plug Earth (E).
4. Secure tightly.
5. Loop wires under strain relief lugs.
Wires should be visible through bottom slots.
6. Ensure that the plastic cover is
fully seated all around the base.
7. For 3 pin plug only - screw down
plastic lock nut until cover is firmly
held on the cord.