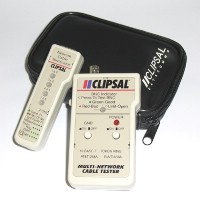 - Ethernet 10 Base-T
- EIA/TIA-568A
- EIA/TIA-568B AT & T 258A
- 8 position Token Ring

All cable types are
automatically tested
for continuity, miswiring
and polarization.

By using the remote
unit / terminator, one can
easily test any of the above
cables before or after
installation.

The tester provides for
easy access and quick
check-ups.